Before Race Day
What are we raising funds for?
Funds raised on behalf of International Justice Mission are directed to IJM's most pressing needs in their mission to combat violent oppression around the world.
Will 100% of the funds I give and/or raise go to International Justice Mission?
The registration fee of $10 goes to WBGL to cover expenses for the race. All proceeds outside of the registration fee will be given directly to International Justice Mission.
All donations made by check should be made payable to International Justice Mission. (You can put WBGL in the memo line)
If I register for the 5k, do I have to raise funds?
No, however, we would like everyone participating in the race to join the fight against slavery. The suggested amount per participant is $100. The race registration fee goes to WBGL, to help cover expenses for the race. We ask that you help in the fundraising efforts benefiting International Justice Mission. Raise money to help IJM set slaves free, throw oppressors in jail, and stop slave trade forever.
Where will the funds be directed?
Funds raised on behalf of IJM are directed to IJM's Urgent Needs Fund, and will be used to meet IJM's most pressing needs in their mission to combat violent oppression around the world .
What do I need to know about packet pick up?
On Friday, August 9th, you can pick up your race packet at the WBGL studios located at 4101 Fieldstone Rd, Champaign, IL 61822, between noon and 5pm.
You can also pick up your packet, 6:30am - 7:30am, at the registration table on Race Day.
Can I order a shirt and not run in the race?
Yes, just register for the race, and we will mail you the shirt. Registrations done before July 19th will have shirts ready by race day. All other shirt orders will be mailed aproximately 2-3 weeks after the race.
Can I make changes to my registration?
You can make changes by calling the station toll-free at (800) 475-9245 by August 5, 2019. After this, changes will not be permitted.
Where can I take cash and check donations that I raised?
You can drop off the donations at the WBGL studios Monday-Friday from 8:30am -5pm at 4101 Fieldstone Rd, Champaign, IL, 61822. You can also bring them on race day. Remember to make all checks payable to International Justice Mission for your donations raised.
Can I order a shirt, even if I can not attend race day?
Of course!!! Just register for the race, and we will mail the shirt directly to you.
Race Day
It's Race DAY! Where do I park?
You can park at St Thomas More High School, 3901 N. Mattis, Champaign, Il 61822. Parking is available in the parking lot. Please enter via Mattis road.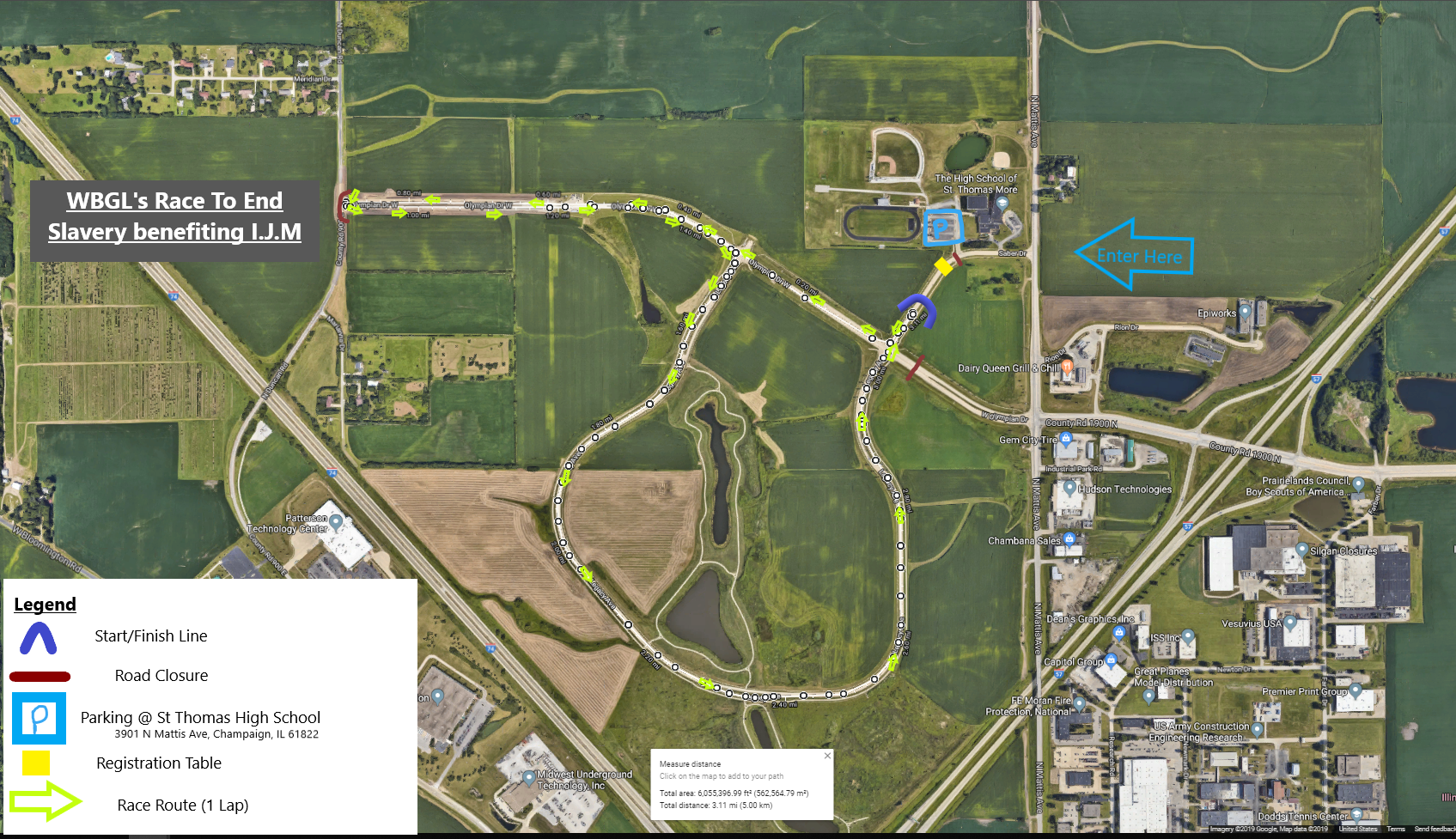 I'm not a runner. Can I still participate?
Yes, you can walk in the 5k.
Walkers and strollers will start at the back.
I want to listen to music while I run. Is that allowed?
For your safety, and the safety of all our participants, headphones are discouraged during the event.
During the 5K you will need to be aware of your surroundings.
Is this a timed event?
Yes! This is a chipped event and will be timed by Second Wind Running Club. Second Wind Running Club uses chip timing RFID technology. Your time starts when you cross the start line and ends when you cross the finish line.
For your most accurate time, please wear your race bib on your outer most layer of clothing, on the front.
What water stops will be on the course?
There will be a water stop at the Start/Finish line. There will be water as well as sport drinks.
Will there be snacks and refreshments at the race?
Of course! We know you need to re-fuel after your run. There we will be granola bars, fruits, sports drinks and water along with many other snacks for everyone to enjoy during the post-race celebration.
What does my 5k registration include?
You will receive a "Race to End Slavery" cotton/poly blend shirt made by Treign, along with your Second Wind Running Club bib for accurate timing. Every 5k participant that completes the course will receive a participant medal, a bag with all sorts of goodies in it.
How are awards set up for the 5k?
Awards are set up by age groups. There will be an award for 1st place of each age group as well as awards for the Top 3 overall males and the Top 3 overall females. If you do not happen to finish in 1st in your age group, know that you will still get the participant medal.
Age Groups are as Follows (for both male and female) :
<8, 9-11, 12-14, 15-19, 20-24, 25-29, 30-34, 35-39, 40-44, 45-49, 50-59, 60-70, 70+
Are strollers allowed in the 5K?
We want to see your family, including those little stroller riders. We'll just have you start at the back of the pack.
How is the 5K start organized?
If you're fast, start at the front. If you're not fast, head to the back.
Uh oh! I changed my mind. Can I exchange my shirt for a different size?
If you let us know by July 15th, 2019, we can change your size. Just email Drew Copeland at Drewc@idcag.org After that date, we may have a few extras so check in with us and we'll try to exchange it for you.
Call WBGL toll free at (800) 475-9245 for changes, more info, etc.
Oh man. Something came up. I still want my shirt, but I can't attend the event. Now what?
Bummer. Your shirt will be available at the WBGL on the day before the race. You can also pick it up at the station during regular business hours after the race. We also encourage you to still run on your own as well, especially if you raised money for participating in the race.
I live far away, but still want to participate in the event, is this even possible?
Yes it is. You can register for our race, set up fundraising for IJM, and run on your own. Just make sure and let your supporters know that you are running on your own. We will mail you your shirt, finisher medallion, and other goodies that attendees will recieve.
I'm injured and/or can't run in the race; can I get a refund?
Unfortunately, we will not be issuing refunds. Remember, all registration fees are a donation to WBGL to cover expenses of the race.
We live in the Midwest. What if it snows? In August.
The event will take place rain or shine.
In the unlikely event of severe weather, please check WBGL's Facebook page at https://www.facebook.com/WBGLradio/.
We will take precautions as recommended by the National Weather Service, but only in extreme cases will the event be cancelled. Your safety is our number one priority-your fun is our close second.